How Can You Tell If It is a Genuine Inman Aligner?
Like all great products the Inman Aligner is often counterfeited. Due to the complexity of the Inman Aligner, fake appliances simply do not function correctly or efficiently.
All Inman Aligners manufactured in the UK from September 2014 onwards will be supplied with a genuine "Authentication Card" similar to the one in the picture below. Each card will have your name printed on it and a unique serial code.

To check if your aligner is genuine enter the serial number on your card into the box below:
Is your Inman Aligner genuine?
Enter the serial number provided with your aligner below:
Other ways to check if your Inman Aligner is genuine are:
1
Laser Etched Tubing
All real Inman Aligner are fabricated with laser etched tubing on the tongue side of the appliance featuring the name Inman Aligner.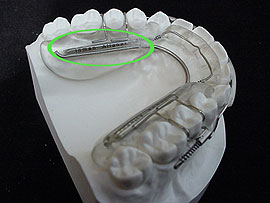 All real Inman Aligners are fabricated with laser-stitched tubes to the buccal (cheek side) retention clasp. Counterfeit appliances most often will use silver solder to hold the tube to the buccal clasp and this silver solder often fails. You can see by the picture the silver solder adds more bulk, it also will turn dark gray or black after a short time in the mouth. Silver solder also will create a metallic taste as the solder breaks down.
The real Inman Aligners never fail in this area, never turn dark and will not create a metallic taste.
2
Inman Aligner Presentation Box
All real Inman Aligners come in a presentation box including patient instructions and a custom appliance case.
3
Fabricated by a Certified Inman Aligner Laboratory